Cold Call Scripting: A Journey of Self Education
Part 1
I recently came across a quote by Steuart Henderson Britt:
"Doing business without advertising is like winking at a girl in the dark. You know what you are doing but nobody else does."
Ironically, this quote landed in my inbox the same week I was asked to create a few sales call scripts. 
"Cold-calls? Um, how do we do this without me coming off as "that person"? I have to be honest, I am nervous to embark on this mission.." Am I the only one who feels negative connotations with the phrase "cold call"? If so, why are sales managers still mandating them? Especially in a 2020 post-COVID-19 market? The short answer: nobody knows our service exists yet!
There are people out there who need our team. 
In the landscape of software development and allocating engineers to given teams and tasks this market may seem flooded, but it is flooded with shit. Any freelancer or company can draft a profile or website that claims to have the most experience, best talent/resource pool, or general bang for your buck. Is that really a believable service offering given how many have failed in simple deliveries and provided a bad name for the offshore industry as a whole? 
Things all started to make sense to me in the big picture. To grow our business and take it to the next level, sometimes I have to be "that person". 
How else would anyone know a better team and service exists if I didn't tell them? How would they start their transition away from high payrolls and employee contracts if I didn't explain another option exists? Thus, the journey to create the perfect call script began. 
Below are some notes that were created during the process of educating myself on how to create a call script. Specifically when thinking of cold/warm calls. This is not a step-by-step guide on how to create a script, nor is it an example of what my script will say. These are high-level notes that have helped me get comfortable with the idea of cold calling. Like anything else, practice makes perfect. Reading articles and watching YouTube videos will never make up for getting your ass out in the field and giving yourself some real-life experience.
Potential Starting Approach
Step 1 - Craft your cold/warm email
Step 2 - Craft your proposed reply
Step 3 - Craft your cold/warm call scripts 
Step 4 - Make the call
Goals 
No bullshit; to the point; stand out from the crowd

Initial call → Initial conversation → Initial presentation 
Side note: A/B testing for this in the future will be helpful. Ideally, we will want two landing pages on a website to drive visitors to two different cold email drafts with two different call scripts. Retrospectives will be important to track the performance of each. We'll need to continually make updates to this process. AB testing is just as critical in sales as it is in marketing. 
Structure Examples
Structure - I have been met with a Gatekeeper
Say hello + Ask for their name

Request: Be specific (i.e. who handles X, Y & Z  at your company?)

Can you connect me to this person?
Structure - I am on the phone with the right person 
Introduction 

a. ID yourself, be clear about purpose of call, be direct

Leading questions 

a. Client-focused on their needs, goals, company growth, etc. 

b. Make sure the responses to the questions you ask fall into two buckets - either disqualification or a pain point you solve - Goal is always win win even when crafting questions. 

Close

a. Can I make a recommendation? Why don't we schedule a meeting where I come to your office and show you some items? It may take about 30 mins to do this. 

b. Send CALENDAR INVITE for next step
Other examples if you have the right person on the phone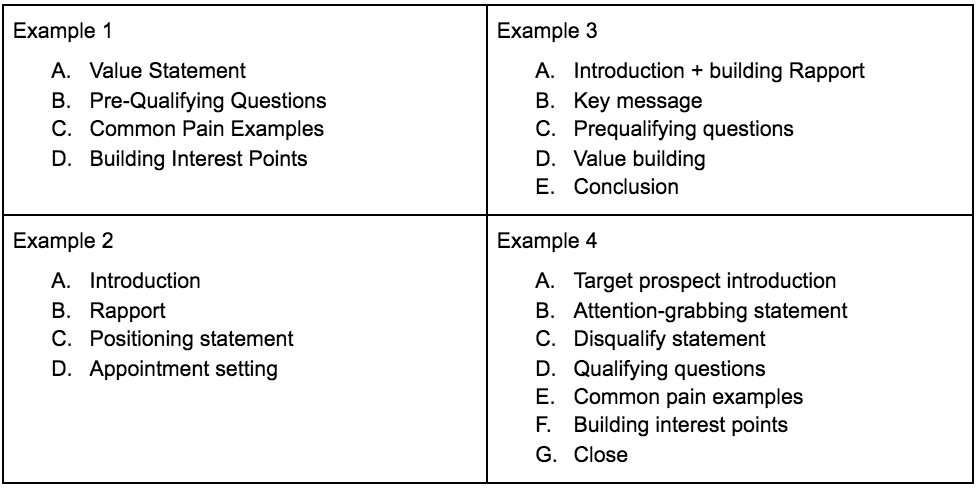 Prepare Additional Talking Points
Set of planned responses 

Set of objection-handling answers - always be prepared for objections!! 

A voicemail script → Hello (name) + Reason for calling + Phone number + Phone number again! + Name again!
Common Objections
"I don't have time to talk:" 

Looking to get you off the phone ASAP 

Ask when the best time is for a three-minute follow-up call
"Let's talk in a month:" 

Unable to make a decision right then 

Ask if you should include anyone else in the invite for the follow-up call and if there is anything else specifically they would like to see presented on this call 
"Send an email:" 

ASK FOR THEIR EMAIL!!!!!!!!

Ask what information to add to the email follow up + add questions to follow up to create dialog via email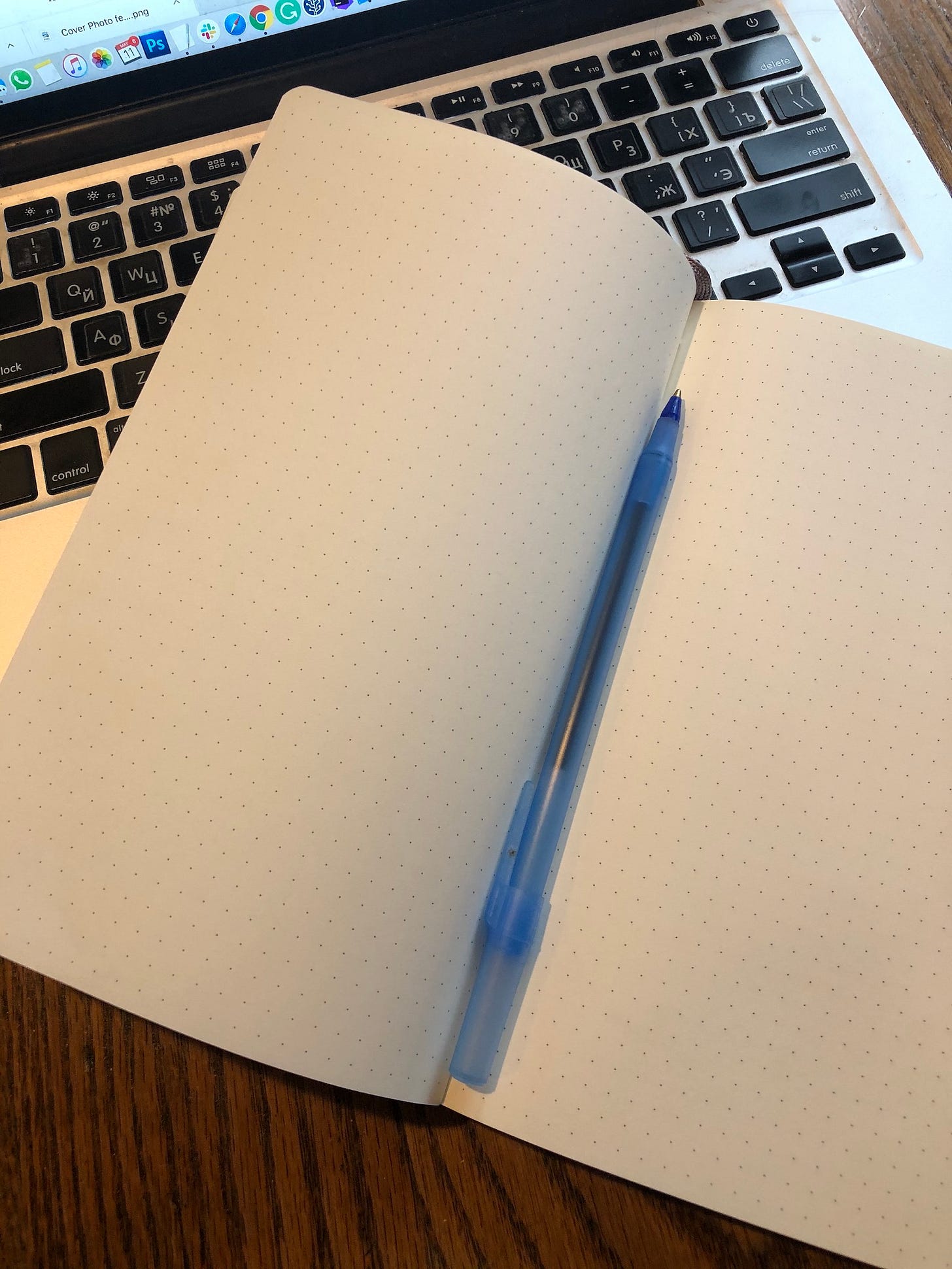 Bullets for Action + Thought
In the early stages, people are more likely to care about what you can do for them versus what college you went to and who your grandmother is. This sort of personal vetting will come in the future when the prospect actually is ready to consider moving forward with your company

80/20 rule also can be applied here - spend 80% of your focus on the prospect and 20% of the conversation on you and your company 

Keep sentences short and sweet 

Add humor to the dialog 

If they deny right away, ask them when a better time to follow up / try them again would be

Stick to timetable you provide them from the beginning unless they extend

Remember this is a conversation - have a dialog, not a monolog!! 

Practice hundreds of times if you have to make your script natural - DON'T READ FROM IT!

Avoid robotic speech by practice practice practice!! 

Record yourself and listen back for mistakes; roleplay various situations 

Think of the goals and challenges of your buyer persona and script questions around this

Try to anticipate as many reactions from your prospect as possible and craft scripts and responses around them 

PERSONALIZE each call to your specific prospect 

DO YOUR RESEARCH on each person!

It is OK to use slang—show you are human

Test different value proposition messages to find out what resonates with your audience

Test new ways to personalize the message to specific prospects

Conduct cold call retrospectives every couple of weeks

(Side note / minor dose of some privacy advocacy: I used DuckDuckGo instead of Google Search to find information to compile my initial brain dump, you should check it out if you haven't!)